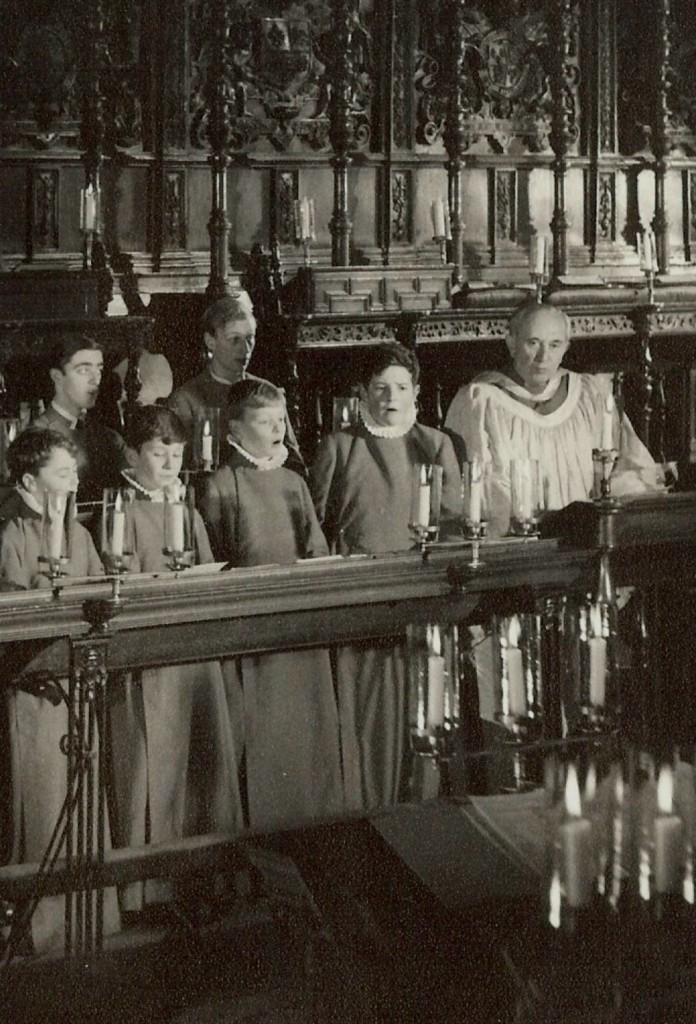 Boris Ord and members of the King's College Choir, taken in the Chapel at King's, 1956
In an earlier post I introduced Boris Ord, the conductor of King's College Choir for nearly 30 years. But what else do we know about him?
His biographical details – including active service in both wars – can easily be found online.
Briefly, he was an accomplished organist while still at school and studied at the Royal College of Music on a scholarship. In 1920 he went as organ scholar to Corpus Christi College, Cambridge, where he founded the Cambridge University Madrigal Society, which toured abroad and so memorably sang madrigals during May Week on the river Cam from 1928. In 1923 he was elected to a fellowship at King's College.
In the same year that he took over from Dr Mann, he also became University Organist, and right up to the time Sir David Lumsden became his organ student in 1948, Ord was the organ teacher of choice in Cambridge.
During the 1920s and 1930s Ord was described (by Radcliffe) as
an excellent and much-in-demand conductor, a gifted pianist of wide musical sympathies … invaluable as a player of continuo parts, in Rootham's staged CUMS performances of Purcell and Handel, … [who] had a sure instinct for what was unobtrusively effective.
Given his involvement in many productions, it was inevitable that Ord should be appointed conductor of the Cambridge University Musical Society (CUMS) chorus and orchestra when Cyril Rootham retired in 1937.
According to Sir David Lumsden, he "produced electrifying performances of the major choral society repertory … again his experience in the opera house shone through". 
For CUMS, he conducted many successful stage performances, notable among them Vaughan Williams' Pilgrim's Progress, Handel's Solomon and Saul, which was described at the time as a "magnificent triumph".
In the fifties, the composer, Professor Peter Dickinson, sang in his Verdi Requiem, which he described quite simply as "unforgettable".
As an organist, according to Sir David Lumsden (who was his organ student for six years),
Boris' approach was more pragmatic then historical.  For example, he was firmly in the older school of organists who insisted that organ sound must be constantly varied to maintain interest. When Boris played, his sheer musicianship shone through but with no concern for the growing "early" [music] style, rather an unerring sense of colour and contrast and dynamic variety.
Sir David Willcocks told me Ord didn't play much Bach. But he did perform the Art of Fugue every year – which, according to Hugh McLean (Ord's penultimate organ scholar), he read from an open score!
But was Boris Ord a pioneer?
Although Ord was described by Raymond Leppard (who took over as conductor of his Madrigal Society from 1957) in his On Music as "an authority on early music [who] conducted marvelously", it's difficult to know to what extent Boris Ord was actually part of the early music movement.
He was certainly an expert teacher in the intricacies of 16th-century counterpoint and, at one stage, he owned a Purcell manuscript (which passed to Thurston Dart), containing some Monteverdi madrigals and works by Bull, Gibbons and Coprario.
He apparently had plans to research some lute-song composers (though one wonders how much was left after Edmund Fellowes' forays into this repertoire), but practical music-making always came first.
On balance, though, I have to conclude that, despite playing the harpsichord and conducting baroque rarities, Ord wasn't an early music specialist. He was, however, a highly successful musical jack of all trades, whose range encompassed Dunstaple, Gibbons and Tallis, Britten's A Boy is Born, Mozart's Idomeneo, Purcell's The Tempest, Dioclesian and King Arthur, Constant Lambert's The Rio Grande and Stravinsky's Symphony of Psalms.
Sir David Willcocks said that he was always keen to try new works, particularly if he knew the composer, as was the case with Herbert Howells.
Recordings
There are no solo organ recordings and the only chamber music he recorded consists of two 78 rpms, of Purcell violin sonatas, with Jean Pougnet and Frederick Grinke. He played continuo on an amplified "whispering giant" on the 1945 recording of Dido & Aeneas, conducted by Constant Lambert (which is still available) and also on a record of Couperin motets, directed by Anthony Lewis with the opera divas Jennifer Vyvan and Elsie Morison.
Here's Ord conducting a solo group consisting of Isobel Baillie, Margaret Field-Hyde, Gladys Winmill, Rene Soames and Keith Falkner in Wilbye's madrigal Flora Gave Me Fairest Flowers.
The disc that he made (in 1957) of the repertoire from the annual "harpsichord jamborees" at the Royal Festival Hall is our only chance of hearing the " lightness of touch" of his orchestral conducting, which Radcliffe describes as being so perfect for eighteenth-century music.
Summing up
Variously described as "legendary", "formidable", someone who was "very very strict" and " a genius utterly devoted to his work", Boris Ord was (nevertheless) held in great affection by the choir at King's.
Brian Head (who was Ord's head choral scholar in his last year) said "Boris didn't fully understand the immense contribution he made to choral music in England and to the King's legacy".
Radcliffe mentions that he was very sociable, gave lavish parties and "kept his friendships in constant good repair". Sir David Lumsden described Ord as "a man of great charm and charisma, with a dry sense of humour".
This last trait is certainly borne out by the many funny stories I've heard about him and the fact that he established the Bene't Society, solely for performing hilariously successful concerts of "Bad music" – which attracted such eminent visitors as Gustav Holst and Edith Sitwell
Acknowledgements
Thanks are due to Grayston Burgess, Professor Peter Dickinson, Brian Head, Michael Keall,  Sir David Lumsden, Hugh McLean, Sir David Willcocks and to staff at the Archive Centre and Development Office at King's College, Cambridge.
See part 1 of this post here