by Guest Blogger: Mandy Macdonald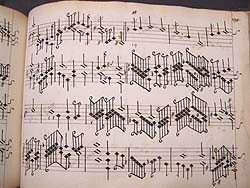 A page from William Byrd's My Ladye Nevells Booke
This recording of the lovely Fifth Pavane, played by the English harpsichordist Colin Tilney, is one of the 42 compositions for virginals by William Byrd (c. 1540–1623) in My Ladye Nevells Booke of Virginal Music, one of the most beautiful Tudor manuscripts in existence.
When it was acquired for the British Library in 2006, at a total cost of almost £1 million, it caused scarcely a ripple in media circles, even in Britain. Six year on, it seemed worthwhile to revisit the story and explain the significance – and the high price tag – of this small but precious volume.   
Written in 1591, twenty years before Britain's first printed book of keyboard music (Parthenia, 1613), My Ladye Nevells Booke is unique among early English keyboard collections in being devoted entirely to one composer. It is not only a precious artefact and a very significant historical document showing Byrd's great importance as a trail-blazing composer of music for the virginals, but also a shining example of the successful preservation of Britain's musical heritage.
Although clearly intended for personal use, My Ladye Nevells Booke is not just a commonplace book. The rich binding and superb calligraphy show that it was a presentation volume. The dedicatee, 'Ladye Nevell', has only fairly recently been firmly identified as Elizabeth, wife of Sir Henry Nevell or Nevill of Billingbere, Berkshire, and later of Sir William Periam. As Lady Periam she was also the dedicatee of Morley's First Booke of Cazonets to Two Voyces of 1595; so we can imagine that she was, if not a patron of music, certainly an enthusiast.  
Saving private music
My Ladye Nevells Booke spent much, but by no means all, of its life in the possession of the Nevill family, the earls of Abergavenny. It was considered sufficiently precious to have been thought worthy of being presented to Queen Elizabeth I possibly only a few years after having been created for Lady Elizabeth Nevill. Passing out of royal hands before 1603, it returned to the Nevill family around 1668, where it seems to have stayed till the end of the eighteenth century. In 1814 it turned up mysteriously in the library catalogue of the famous musicologist Dr Charles Burney.
After being sold on a couple of times, it made its way back to Henry Nevill, Lord Abergavenny, by 1833, and from then on remained in the family until 2006. In that year the manuscript was accepted by the British government in lieu of inheritance tax and allocated to the British Library, with additional funding from the National Heritage Memorial Fund, The Art Fund and many other  institutional and individual donors. The fundraising effort that resulted in the acquisition was led by Chris Banks, then Head of Music Collections at the British Library.
This was a great coup for the Library. As the early keyboard specialist Christopher Hogwood said: "It's one of the prime sources of some of the finest keyboard music produced in England, and contains some of Byrd's best pieces … It's the best reference we have." (Guardian, 31 December 2005).
In 2009 the British Library digitised the manuscript and made it available as a virtual book on its website
A work of art

John Baldwin signed off his work as
finished & ended the leventh of September in the yeare of our Lord God 1591 & in the 33 yeare of the raigne of our sofferaine ladie Elizabeth by the grace of God queene of Englande etc, by me Jo. Baldwine of Windsore. Laus deo.
Even if the music it contained were insignificant, My Ladye Nevells Booke would still be a work of art in its own right. It has remained astonishingly undamaged for more than 400 years. The ornate cover and binding are original and unusually elaborate for the period,  and were made at the workshop of John Bateman, royal bookbinder to Elizabeth I. See also this link
The manuscript itself was written by John Baldwin, a Gentleman of the Chapel Royal, almost certainly closely associated with Byrd, and himself a competent composer: 17 of his compositions are to be found in the Royal Library. Baldwin's calligraphy is very beautiful and consciously decorative, but also accurate – where he made errors they seem to occur in places where he was unable to resist making patterns with the notes, especially later in the book as his calligraphy became more confident. The occasional marginal comments and corrections are possibly by Byrd himself, the handwriting being identified by comparison with Byrd's own hand in legal documents that he is known to have written.
The notation is both old-fashioned in the use of the six-line stave (although this stave continued to be used for keyboard music up to the time of Purcell) and forward-looking in the use of bar lines and key signatures. There are also many fingering indications, making MLNB a valuable piece of evidence also for Elizabethan practice in this respect.
The Dutch harpsichordist and conductor Ton Koopman has noted that "the countless fingering indications are an invaluable guide to early fingering and articulation systems" (English Harpsichord Magazine, 2/1, 1977).
The music
The music itself, however, is anything but old-fashioned. Hilda Andrews, editor of the first modern edition of  My Ladye Nevells Booke, calls Byrd the true founder of English virginal music, regarding earlier examples such as 'My Lady Carey's Dompe' (see below) and Hugh Ashton's 'Hornepype' as 'primitive'.
Byrd's great innovation in music for the virginals was to amalgamate the polyphonic style of vocal music (a style which has earlier been translated into music for the organ, for instance in works by Tallis and others in the Mulliner Book); with the accented rhythms of dance and folksong.
According to the reviewer of Christopher Hogwood's recording of  MLNB in The Gramophone, January 1977), this produced music of
astonishing rhythmic vitality … Triplet rhythms suddenly intrude as do syncopations of the most complex kind; they make the music both hard to play and wonderfully alive.
This was new, path-breaking music
The collection shows the development of Byrd's keyboard style from the 1570s up to 1591, when Baldwin began work. Some of Byrd's best-known keyboard compositions, including the sets of variations "Sellinger's Round" and "The Carman's Whistle", are there, as are three pieces written especially for Lady Nevill. Christopher Hogwood suggests in the sleeve notes to his 1977 recording that the collection falls into two sections each beginning with a piece dedicated to Lady Nevill.   
The genres not included are as interesting as those that are. Apart from the programmatic "Battell", the pieces are mostly sombre and stately, with (except for "Munser's Almaine" – played here by Hogwood) none of the sprightly court dances such as the coranto or volta that we find all through the Fitzwilliam Virginal Book. On the other hand, there are no examples of fantasias based on Latin plainchant (e.g. the "In nomine"). We don't know whether this selection reflects Byrd's preference or Lady Nevill's, nor to what extent it was influenced by religious criteria, but it does convey a strong sense of having been planned as a collection by the composer.  
Here's Lord Willoughbie's Welcome Home played by Davitt Moroney
Ladye Nevell in performance and recording
We now have at least three complete recordings of  My Ladye Nevells Booke: by Hogwood (1977), Davitt Moroney (1999) and Elizabeth Farr (2007). But it's puzzling that this music took so long to become part of the regular performance and recording repertoire of the Elizabethan and Jacobean periods. Although a de luxe modern edition of My Lady Nevells Booke was published  in 1926 – the Fitzwilliam Virginal Book had been published even earlier, in 1899 – and although the music was written about by scholars such as Edmund Fellowes (William Byrd, 1936; The Complete Works of William Byrd, vols. 18–20, 1950) and Margaret Glyn (About Elizabethan virginal music and its composers, 1924), it seems not to have become popular in performance and recording until decades later.
There are just a few recordings of a handful of pieces between 1923, when the redoubtable Violet Gordon Woodhouse recorded "The Queen's Almand", "Lord Willoughbie's Welcome Home" (aka "Rowland") and other now familiar pieces, and the mid-1950s, from which we have Thurston Dart on LPs from Decca (1953) and Oiseau-Lyre (1955). But recordings of Tudor and Jacobean keyboard music only really took off in the 1960s and particularly the 1970s, the generation of Hogwood, Tilney and Pinnock.
Why was this? Perhaps the music was considered too academic or abstruse, or too difficult – much of it certainly is challenging to play! Whatever the reasons, My Ladye Nevells Booke shows that Byrd's keyboard music was the equal of his sung music. He kept writing for many years after its creation, but this collection from the first half of his career contains some of his best pieces, works that established a new keyboard style and opened the way for Bull, Gibbons, Tomkins and other great keyboard composers of the age.  
© Mandy Macdonald 2012