The Belgian early music pioneer explains why period style matters, no matter what period.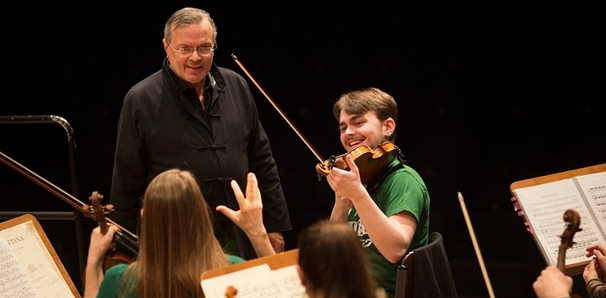 by Clive Paget
"For me Stockhausen and Messiaen is early music." Now there's a provocative statement, but then Jos van Immerseel has been provoking a response on and off for 40 years now. The Belgian early music pioneer [ … ] is talking to me over the phone from Mexico City where he's appearing with his period band Anima Eterna, a truly globe-trotting phenomenon.
These days he's as likely to be found applying his mind to 'authentic' Ravel and Janáček as he is to be playing Mozart on his beloved fortepiano, but this questing musical personality has never forgotten his roots, nor the catalysts that launched him on a collision course with the music of the late baroque and the classical era.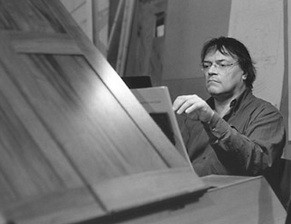 "I didn't start with early music, that came later," Van Immerseel admits. Starting out as a piano and the organ student in the 1960s (the maestro turned 70 last year), up until the age of 18 he played what was considered normal repertoire before heading to Antwerp for further studies. But then it all changed. "I was a little bit shocked in the conservatory," he explains. "In the piano class we ignored the style and specific character of the repertoire. We played Bach exactly the same way we played Rachmaninov.
But in the organ class we had really incredible lessons on the different styles of organ and the different styles of the music. That was fascinating for me and was really important when it came to making my choice."
Study with the great harpsichordist and musicologist Kenneth Gilbert initially saw Van Immerseel winning accolades as a keyboard specialist. "I tried to find very historical harpsichords and to study this instrument to see the possibilities and the limits", he tells me, but soon his ambitions led him further into the field of original instrument practice and orchestral music of the 18th century.
"I developed my own work and methods but I was also in contact with pioneers like Gustav Leonhardt and Harnoncourt and with colleagues like René Jacobs and Paul van Nevel," he admits. "I wasn't isolated but I was not in a so-called movement or school. I was doing my own things."
In 1987 Van Immerseel founded his own orchestra, Anima Eterna. "We started with Mozart, playing all the piano concertos and recording them," he explains. "At the end of the cycle the orchestra grew up to a small symphony orchestra and so we started to play symphonies by Mozart and Haydn and so we arrived automatically at Beethoven."
For a dedicated ten year period, Anima Eterna committed itself to exploring the complete Beethoven cycle, touring them across Europe and famously recording them back in 2008 on the boutique Zigzag label. [ … ]
Beethoven changed so much about the way we think about the symphony today – not just the structure and purpose of the music, but the size and makeup of the orchestra as well. Over a period of 25 years he transformed music in his time and that should all be evident as the Anima Eterna orchestra expands in terms of number of players across the cycle [ … ].
For Van Immerseel, it's more than just a question of authentic instruments. "That's a part of the job," he says "Good instruments can show you the limits and the possibilities of the music, but there is also the study of the phrasing, of the tuning, of the style, of the tempi. Then there's the composition of the orchestra, the art to setting out the instruments, the technique to play them etc. All these things are important." And that all changes across the cycle. "Violins use older bows in the early symphonies and more advanced bows in the later symphonies. And they play with all different kinds of gut strings."
Early on, Van Immerseel took the idea of playing in historically informed style on instruments of the period and applied it to Berlioz, Schubert and so on up to Brahms.
In recent years he's gone even further recording Orff's Carmina Burana as well as Dvořák, Poulenc and Ravel. "We played Ravel on French instruments and the sound is completely different compared with what you hear normally," he enthuses. " It's much more transparent and there are more colours. Playing this music on the right instruments you understand the music better. You see why a composer writes such a timbre, such a motif, such notes, such a compass and that's really difficult to find out if you play all the music from the past on the same instruments – that's not logical!
Please subscribe to this blog – in the top right corner – and receive notifications of new posts by e-mail. In terms of getting information, this is preferable to "liking" the blog (though you can do that too), as Facebook's money-making system limits the number of people who see our news feed, to as little as 10% of the total sent!
Listening to his often-pugnacious analyses, there's definitely a touch of the evangelist about Jos van Immerseel. His philosophy is all embracing and distinctly catchy. "I like to compare a piece of music with food or with a kitchen," he proselytises. "If you are an admirer of the Japanese kitchen, then you try to find a restaurant with Japanese food and with Japanese ingredients and not, for example, Italian ingredients. If you like an Italian kitchen then you do the opposite. In art it's absolutely normal that if you have a picture by Van Gogh or by Caravaggio restored, then the restoring method is completely different. It's the same in architecture and literature and so on. Only in the music do we play all the music on the same instruments. It's stupid – sorry – but it's stupid!
Next year Anima Eterna plays Enescu and De Falla, and in two years time a Gershwin program. "For me, good music is for all time," Van Immerseel explains. "We try to adapt to every composition with the right instruments. My clarinet player for example plays on 16 different clarinets. That's normal if you do this seriously."
And as he boldly goes, does he see an end point? Will we be hearing period Messiean and Stockhausen in the future? "We do Messiaen next year," he declares. "Stockhausen, I don't have a special feeling with this music, personally. So for the moment no Stockhausen …" Shame.
Copyright © 2016 Clive Paget – All Rights Reserved
This article was originally posted by Limelight Magazine, Australia. This edited version is reprinted here by permission.