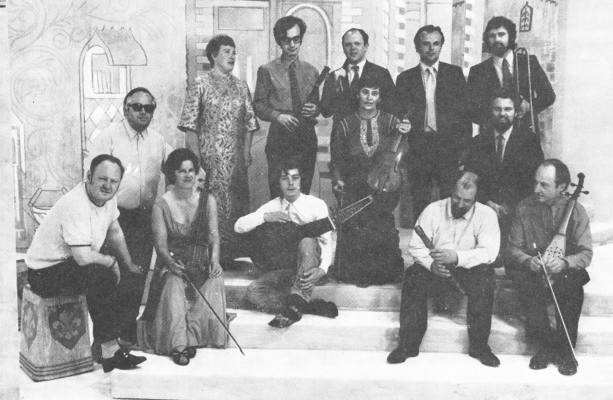 Guest blogger: Edward Breen PhD
(London-based musicologist, writer and lecturer; see here for more of his work.)
Michael Morrow (1929-94) was the director of Musica Reservata, an early music ensemble active in the 1960s and 70s with a repertoire that spanned from medieval to baroque. (Their discography can be seen here.)
Although Morrow was the director and often the editor of the editions used by the ensemble, harpsichordist John Beckett conducted performances. The ensemble included many superb musicians such as the organologist and percussionist Jeremy Montagu; recorder player John Sothcott; singers Ian Partridge, Nigel Rogers, Grayston Burgess, Paul Elliot and Jantina Noorman; and other instrumentalists David Fallows and Christopher Page, David Munrow, Anthony Rooley and Andrew Parrott. Parrott, incidentally, also conducted the ensemble in the early 70s after Beckett's departure. Musica Reservata was not of course the only early music outfit to boast such specialist personnel at that time, but it does appear to have been quite an important meeting place for those musicians who specialised in medieval repertoire.
In Britain, in particular, the BBC was at the heart of key early music advances. Morrow, born in Ireland and bedridden for much of his childhood with an aggressive form of haemophilia called Christmas disease, openly acknowledged the role the BBC had to play in his own musical education and in the development of Musica Reservata. In one script (perhaps for a pre-concert talk) he paid specific tribute to the Third Programme:
Shortly after World War II the BBC Third Programme was established with the aim of bringing to the general public music, poetry and drama that was either too old, too new or too exotic to form a part of the accepted repertory. Previously, the only regular opportunity for the average listener to hear preclassical music was in the form of gramophone records. These, however, were limited in scope, owing to the lack of public interest, and to the severe restrictions imposed by the limited playing time of the 78 records. The only early music recorded was, virtually, the incomparable Nadia Boulanger Monteverdi records, made in 1937, and odd snippets of this and, occasionally, of that, in the French collection Anthologie Sonore and the English Columbia History of Music – both series musicologically out of date practically before they were conceived.
This, then, was the state of affairs before the BBC Third Programme began its marathon series of series, that included a year-long history of music, a geographical and historical survey of plainsong, a history of English lute music (performed by the foremost lutenists in England and Europe), numerous programmes of non-European music, and of folk music from most countries. Without this musical background neither Musica Reservata nor, indeed, any other English professional early music ensemble could have come into being.
(Michael Morrow, "Musica Reservata," February, 1971, King's College London Archives.)
Morrow highlights an important part of the Third Programme's legacy, its wide selection of early music, world music and folk music. [See also the blog post on Desmond Dupré, who was a regular member of Musica Reservata.]
Morrow studied fine art in Dublin before settling in London in the mid 50s where he took a job operating the musical fountains at a Moroccan restaurant in Piccadilly Circus. He sat inside a control booth pulling levers to make the fountains squirt water in time to music.
In London he reconnected with his friend and fellow Irishman, the harpsichordist John Beckett who was by then performing as a duo with the recorder player John Sothcott who had studied at Morley College with Walter Bergman. Sothcott remembers at their first meeting, Morrow had only a lute that had begun life as a theatre prop but which had been adapted for playing. The result of their musical experiments was an invitation to perform for 'The Society of The White Boar' renamed 'The Richard III Society' in 1959. They performed the early music that they had been exploring with several friends (including Jeremy Montagu who at first played jazz tom-toms as a stand-in for nakers). It was from this concert that Morrow, Beckett and Sothcott founded Musica Reservata and went on to give an inaugural concert in Fenton House, Hampstead in 1960.
Please subscribe to this blog – in the top right corner – and receive notifications of new posts by e-mail. In terms of getting information, this is preferable to "liking" the blog (though you can do that too), as Facebook's money-making system limits the number of people who see our news feed, to as little as 10% of the total sent!
Musica Reservata may have been founded by three friends but appears to have been driven chiefly by Morrow who became more fanatical about issues of performance practice as time went by. There are two interesting connections that Morrow made which seem to have had a deep influence on his approach to early music, medieval in particular, and these both relate back to themes explored in the Third Programme broadcasts mentioned above. The first came through Eric Halfpenny, a founder member of The Galpin Society, performer (on cross flute) in that first Musica Reservata concert, and author of a 1943 paper 'The Influence of Timbre and Technique on Musical Aesthetic' (The Music Review, iv 1943, p 250). Halfpenny wrote convincingly about the need to hear music played on the instruments for which it was originally conceived and indeed, it was the very sounds of early instruments that were to play such an important role in defining performance practice for Music Reservata throughout the 1960s and beyond.
Another key influence was the folklorist A.L. Lloyd (Bert Lloyd). Morrow certainly knew of Lloyd's work through his recordings, especially of Bulgarian Music, for Columbia records. Lloyd helped Morrow realize close connections between medieval music and longstanding traditions in folk music communities.
To pursue this line of reasoning for a moment, there is a picture that accompanied Morrow's 1978 article 'Musical Performance and Authenticity' (in Early Music vol. 6, no. 2) showing a group of bagpipers dancing to gudulka accompaniment (a Bulgarian folk instrument closely related to the medieval rebec) and that photograph was taken by Lloyd himself. It can be compared to another shot from the same event featured on his Columbia album booklet (page 6).
It was a folk LP that stopped Michael Morrow in his tracks one day. John Sothcott remembered the incident when talking to Christopher Page on Radio 3's Spirit of the Age series in the early 1990s:
I remember with the Kalenda Maya piece at the beginning for example – we were working out ways of doing that and we went into the record shop in Hampstead and heard a Romanian pipe player playing some very percussive dance music with a drum and we suddenly realized this was the sort of approach that would suit that Kalenda Maya – or would be one approach that would suit it and didn't seem to clash with any of what we knew about the performance of this area of music. And I remember that grew that evening from that performance of music and almost exactly as we did on the record it never altered. By I think that time we had Jantina Noorman of course with us who makes a very special sound.
Speaking also in that interview Jeremy Montagu remembered that Morrow had taken Noorman to meet Lloyd so he could advise her on singing styles. Lloyd was indeed a catalyst for Jantina's constructed style.
Listening to Kalenda Maya from its first Musica Reservata recording one can clearly hear the influence of Balkan folk techniques on Jantina Noorman's singing.
This, however, was not the way Noorman had always sounded, it was a constructed style arrived at through trial and error. The difference is clearly heard in this recording of Dutch folk songs from the 1950s before she began her long association with Musica Reservata. [See this 2005 article about her, with extracts from an interview.]
Another key influence for Michael Morrow in the 1950s came when he heard the Bulgarian State Company perform at London's Queen Elizabeth Hall. And indeed, Michael Morrow himself mentioned the importance of Balkan voices in unlocking the sound of Medieval Music many times throughout his life. In 1967 he played extracts from two of Lloyd's Bulgarian recordings on BBC radio to illustrate points about singing. Bulgarian singers, he felt, exemplified the 'modified shout' that was produced by singers during the Middle Ages and renaissance as opposed to the 'modified speech' that later singers cultivated.
Furthermore, Morrow was keen to avoid performances in equal temperament because the harmonic idiom of medieval music – particularly drones –demanded a precise intonation. The standards of Bulgarian singers were again drafted in to justify his point.
To illustrate how Morrow appears to have been influenced by some of the sounds he heard recorded by Lloyd, listen to the strident way the Gudulka is played in Lloyd's Columbia Records recording of Pushka pukna (if you can get hold of a second-hand recording), then listen to the rebec playing on the opening of this dance from Musica Reservata: La Quarte Estampie Royale (if you can't find the Columbia album then try listening to Otreyala Mesechina from Folk Music of Bulgaria for a similar but less-pronounced effect).
These days that feels like a small point, but it is extremely significant that the straightforwardness of the playing was startlingly new in early music in the 60s. Not even the New York Pro Musica ever used quite that sort of 'bite and attack'.
In fact, 'bite and attack' is the very term used in Musica Reservata biographies to explain how their sound was dictated by instrumental construction. Techniques of bowing and blowing were chosen to ensure rock-solid intonation, and this in turn was felt to set a certain benchmark for style and texture.
With such realisations about instrumental playing, Morrow then figured that voices, being naturally more flexible, would have been obliged to blend their sound so that it was not incongruent with the instrumental texture. He wasn't asking singers to imitate the instruments as much as simply to behave like them. And the catalyst for this vocal style was Balkan voices. Here's how he put it in a pre-concert talk:
[…] vocal tone has always been related to the tone produced by the instruments of the time, and it seems unreasonable to expect musicians of any period to admit serious incongruity between vocal and instrumental colour […]
So the outline of the Musica Reservata project seems to have been based on instrumental playing. First, the instruments had to be played in such a way as to maintain the most accurate intonation possible, which often meant blowing, or bowing stridently. Then the singers were asked to articulate their musical lines similar to the instruments, and to use a 'modified shout' to balance the ensemble. Through Bert Lloyd, Morrow found useful models in Balkan singing that closely matched the qualities he sought. And in Jantina Noorman he found a singer who not only could, but also would, try such singing techniques in early music.
© Edward Breen 2016 – All rights reserved
Edward Breen's essay "Travel in Space, travel in Time: Michael Morrow's Approach to Performing Medieval Music in the 1960s" will be published in July 2016: Studies in Medievalism XXV: Medievalism and Modernity.