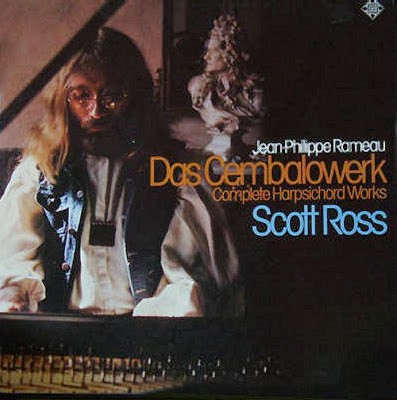 The American harpsichordist Scott Ross is one of those musicians who just don't seem to have achieved the fame they deserved. I must admit that he didn't register on my radar at all, at the time when I "discovered" the likes of Gustav Leonhardt, Ton Koopman and Kenneth Gilbert.
For the first time ever, I recently came across some LPs of Scott Ross, in a pile on the floor of a junk shop. I guess they must be pretty rare, as I've never seen any records by Ross before, although I regularly look through thousands of LPs in search of recordings of early music.
Ross was the first person ever to win the first prize in the harpsichord competition at Bruges in 1971. The jury had previously only ever given second prizes, as no one had been considered good enough to deserve the top prize.
Ross was aged just 20 when he won. It was, in fact, his second attempt, as he had entered the competition (which is held only every three years) in 1968.
The boxed set I found is of the complete harpsichord works by Rameau, re-issued by Telefunken. It was originally published by Editions STIL in 1975, and won a Grand Prix du Disque.
As you can see, Ross is pictured on the front looking like a pop star, with long hair, a beard, a hippy-style shirt with flowing sleeves and octagonal gold-rimmed glasses of the type made popular by John Lennon; his hands and the reverse keyboards of the harpsichord are reflected in the lenses – nice touch, this.
See the Scott Ross Facebook group for more wonderful photos and many recordings.
His playing here was something of a revelation to me, as this music can sound rather vapid. Previously I'd only ever heard his Scarlatti and, to be honest, I only associated him with his monumental recording of all the 555 sonatas.
See this hommage (in French) for some interesting details.
His discography shows that he had a very broad repertoire and was also a gifted organist.
Early life
In fact, although he started piano lessons at the age of six, the organ was to become his passion and he studied seriously with Professor Russell Wichmann of Chatham College (Pittsburgh, USA) from the age of 12.
In 1964, his mother, "an intellectual who spoke French … and worked in advertising", according to Michel-E. Proulx's biography, decided to move to France. Her husband, who had been a journalist, had died in 1956.
Shortly after their arrival, Ross met Pierre Cochereau, the organist of Notre-Dame in Paris, who invited him to register at the Conservatoire of Nice, of which he just happened to be the director. So it was that Ross, aged just 14, began to study the organ with René Saorgin.
Please subscribe to this blog – in the top right corner – and receive notifications of new posts by e-mail. In terms of getting information, this is preferable to "liking" the blog (though you can do that too), as Facebook's money-making system limits the number of people who see our newsfeed, to as little as 10% of the total sent!
Needing to learn a second instrument and having seen a poster advertising the new harpsichord class, Ross enquired if he could join it.  As he said in a CBC interview, "one is always well received in a class of harpsichord [as] they have so few people!"
I always thought that Ross was a long-term student of Kenneth Gilbert, with whom he did take some classes, at the Royal Conservatory of Antwerp, after winning Bruges. It was, however, his first teacher, in Nice, to whom he said he owed everything: "It from her that I have my technique, it was she who taught me to play, in short."
Huguette Grémy-Chauliac, born in 1928 (the same year as Leonhardt), had been a student of Robert Veyron-Lacroix and Antoine Geoffroy-Dechaume (1905 – 2000), author of a little erudite book entitled Les secrets de la musique ancienne, based on the work of his teacher – a certain Arnold Dolmetsch.
Madame Grémy-Chauliac, who is still giving concerts, was interviewed in April 2013 for Radio France and, happily, there is a podcast, in which you can also hear her play.
In 1967, Ross studied with Michel Chapuis at the Académie in St-Maximin de la Ste-Baume, in Provence, and was awarded the first prize for organ and harpsichord at the Conservatoire of Nice.
In 1969 he moved to the Conservatoire National Supérieur de Musique in Paris, to study with Robert Veyron-Lacroix who, apart from his solo work, was also the regular accompanist of the flautist Jean-Pierre Rampal.
Three different interpretations
Here's a comparison of Ross and his last two teachers playing the same piece: Rameau's Les Cyclopes – the one-eyed giants.
Veyron-Lacroix's instrument isn't mentioned (nor is the date), but it's a lot less percussive than some he used in his early recordings.
Gilbert, recorded in 1964, plays a instrument which, according to the sleeve notes, is "virtually a copy" of a seventeenth-century Flemish–French instrument made by Rainer Schuetze.
Ross uses the anonymous unrestored eighteenth-century harpsichord at the Château d'Assas, a short distance from Montpellier, France, which he first encountered via a friend in 1969. For photos of Assas and more about Ross (gleaned from Michel-E. Proulx's biography), see this post on the "On An Overgrown Path" blog.
In 1986, Ross resigned his tenure at Laval University in Quebec (where he had taught from 1973) and moved to France permanently, to give master classes and concerts at the Château d'Assas.
By the time he started recording the Scarlatti project, in 1985, he knew that he was very ill. His health rapidly deteriorated and he became exhausted, as can plainly be seen below.
He died of AIDS-related pneumonia on 13 June 1989 in his house in Assas, aged just 38.
During his lifetime, Scott Ross was often called a musical maverick, and not only because of his tendency to perform in lumberjack shirts and jeans at formal concerts. According to the obituary which appeared in The Times on 17 June 1989, his technically stunning playing  "was always marked by scholarship (evidenced also in the editions he made with Kenneth Gilbert of Scarlatti and D'Anglebert), fastidiousness, elegance and, vitally for an instrument still widely derided [!], an impression of rich sonorities."
Although the Scarlatti has recently been re-issued, his other recordings are scarce, but they are well worth tracking down.
© Semibrevity 2014 – All rights reserved