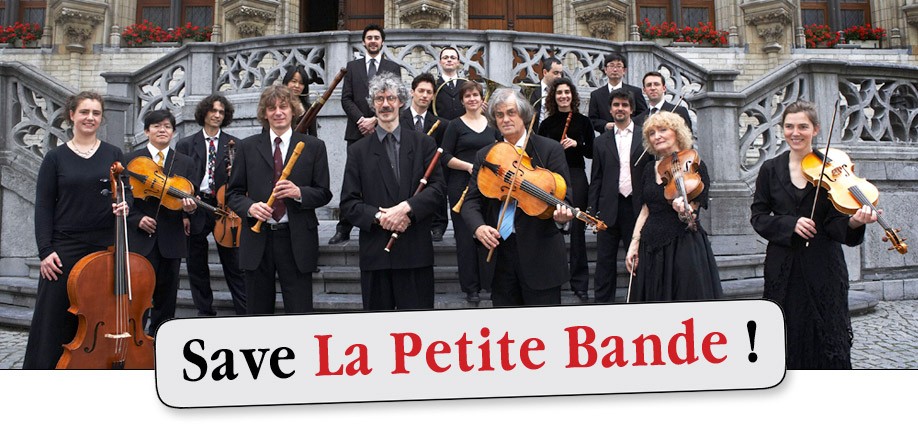 Despite having amassed almost twenty thousand signatures on an internet-based petition, Sigiswald Kuijken's baroque orchestra, La Petite Bande, has been definitively told that it will receive no more money from the Belgian government.
According to the committee which decided to pull the plug, the orchestra is no longer "innovative enough" and has outlived its usefulness, as there are now plenty of other similar groups!
The fact that the band is built around the personality of its leader, pioneering violinist Sigiswald Kuijken, is given as another reason why support has been withdrawn.
It's a sad irony that Sigiswald Kuijken, who was one of the people who – along with his brothers Wieland and Bart, plus Gustav Leonhardt, Frans Brüggen and Nikolaus Harnoncourt –  brought "early music" back to life and has taught countless students all over the world, is now effectively being thrown on the scrapheap by his own country, and is described as "one of many"!
This decision is, in fact, a repeat performance of the negative advice given in 2009, which was ignored by the then Minister of Culture, Bert Anciaux, who maintained funding until 2012.
Interestingly, the government has found 7 million euros extra at the last moment to support other cultural projects of perhaps dubious value, in decisions which have been labelled as "friend's politics" by local commentators.
La Petite Bande was founded in 1972 by Sigiswald Kuijken for a recording project  of Lully's Le Bourgeois Gentilhomme, conducted by the late Gustav Leonhardt. The orchestra takes its name from Lully's own orchestra, Petite Bande des Violons du Roi at the court of Louis XIV. The core of the original group consisted of members of the Leonhardt Consort along with Sigiswald Kuijken and his brothers.
Although La Petite Bande was not originally meant to become a permanent orchestra, the success of their recordings was such that they have been giving concerts regularly for the last 40 years. More information can be found here.
Arts funding cuts are nothing new of course. But it's quite shocking that this world-class ensemble may now simply disappear unless the shortfall of €600,000 can be found from other sources.
In a radio interview (in Dutch),  Sigiswald Kuijken has said that he intends to continue, and I do hope that he's successful.
But, as the business manager of the orchestra said in the local paper De Tijd, "in terms of finding private benefactors, Belgium is not America".
You can keep up to date with what's happening with La Petite Bande, on their Facebook fan page.